Bill Bond.
Spending his youth in the ranching country of the Texas panhandle, Bill Bond went on to complete his studies at the Art Center School in Los Angeles, CA. Moving to Dallas, Bill had a successful career in advertising -- winning over 100 awards throughout the U.S. He was also named Art Director of the year in the Dallas/Fort Worth area during his career. In 1980, Bill moved into fine art with his first sculpting efforts, using traditional western themes. Creativity and ideas led to other themes -- including Biblical and historical. Then, after moving to Loveland, Colorado, he added a fun type of art that he refers to as 'whimsical'.


In all of Bill's bronzes, humor is evident in a subtle way. "I'm trying to take you to the barely perceptive edge of humor -- to a point where you laugh, but are hard-put to explain why," says Bill. He says further, "Style is not art. Art is good design, studied exaggeration, interesting rhythm...just about any theme can be legitimately explored in art, and humor certainly is one of them." Bill has exhibited in the Cowboy Artists of America Museum in Kerrville, TX; the Delaware Museum in Wilmington; the Panhandle Plains Historical Museum in Canyon, TX; and the Gilcrease Museum in Tulsa, OK.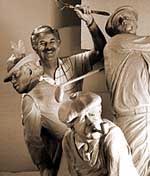 Bill with his monumental sculpture "It's Only A Game".