In the years since Sculptureworks began, it has remained devoted to the promotion of the nation's public libraries through the placement and display of sculpture. Library patrons across the country have been privileged to view unique artwork from dozens of talented sculptors through our sculpture display program.
Many libraries currently display artwork from Sculptureworks' large consortium of artists. Sculptureworks also works with public libraries to organize and conduct educational programs in the form of artist lectures and clay workshops. Sculptureworks strives to provide enrichment opportunities for library patrons to learn about and appreciate the art of sculpture.

If you are interested in having sculpture on display at your public library through Sculptureworks, please contact us for more information.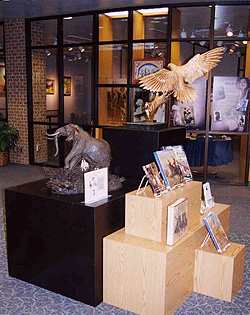 Sculptor Paul Oestreicher's works "The Old King" (left) and "Golden Dream" (right) are shown as part of a Sculptureworks display at the Hurst, TX, Public Library. Photograph by Elizabeth Loggins.