Kids, you can give sculpting a try yourself!

If you would like to try sculpting clay with your own hands, ask a parent to provide you with some modeling clay. Ask for oil-based, non-drying modeling clay if possible (available at art specialty stores). Oil-based clay is very special in that it can always be changed and reshaped. It might get a little bit hard if you leave it exposed to air, but once you start working with the clay in your hands again it will soften back up so that you can sculpt something new every time you work with it.

Begin by making simple stick figures, and work your way up to more advanced sculptures. Use pencils, wire, or other strong objects as armatures (supports) to help hold up larger sculptures.

No special tools are needed to sculpt. All you really need are your hands!! Just use regular household objects, such as toothpicks, to give your sculpture fine details.

Keep your sculpture on a piece of board or thick paper while working on it. Do not place it directly on your parents' furniture, as it might stain!! Store extra clay in a resealable plastic bag or in a container with a lid.
(Note to parents: DO NOT attempt to harden, or "fire", a sculpture made of oil-based clay in your household oven. Oil-based clay will melt and possibly ignite.)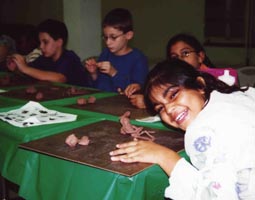 Some students make their own sculptures at the 2003 Sculptureworks, Inc. "Touching Leaves . . ." Sculpture Show and Sale in Danville, IL. Photograph by Elizabeth Loggins.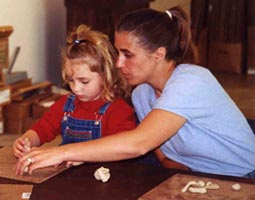 A young artist receives some helpful assistance at the 2003 Sculptureworks, Inc. "Sculpture Along the Trinity at Bear Creek" Sculpture Show and Sale in Keller, TX. Photograph by Elizabeth Loggins.