Peter Brooke.
Born in Scarborough, North Yorkshire, in northeastern England, Peter Brooke began his art career when he took a one-year course
concentrating on illustration at age 18. He then attended Art College in York, and continued his education by earning a Bachelor of Arts degree in television and film production design at Manchester Polytechnic. During college, Brooke spent summer vacations sculpting creatures for an animation studio. After graduation, the head of the studio's sculpture department suggested Brooke contact the Creature Shop, which was established in London in 1976 by legendary Muppets creator Jim Henson. Six months later Brooke began work in Henson's sculpture department. A year after Henson's death in 1990, the Creature Shop sent Brooke to California, where he started working full time as the head of the sculpture and design department at the new Burbank branch.


A member of the Society of Animal Artists, Brooke has passionately pursued his interest in both animals and sculpture, interests which he has had since he was a child. Brooke's bronzes seem to vibrate with life and personality. Regarding his work, Brooke says, "I love pushing clay around. At the end of the day, your hands are dirty and your muscles are aching and you feel like you've done a day's work."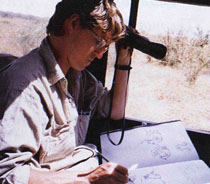 Peter Brooke studies wildlife in Africa.