Tuck Langland
"Crossroads" Monument
Bronze on Indiana Limestone
7' H Figures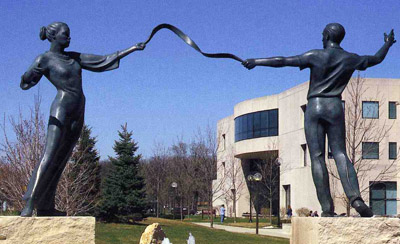 Above: Detail of "Crossroads".

Above: Sculptor Tuck Langland stands in front of his sculpture "Crossroads".




The "Crossroads" fountain sculpture shows a man and a woman reaching toward one another across the water. Besides the figures and the fountain, the complete sculpture includes an 850 foot alignment of Indiana limestone. The stones march in a mathematical relationship reminiscent of the alignments in Carnac, France, or the Hill O'Many Stanes (Stones) in Scotland. The two alignments of stones meet at the crossroads, right in the middle, where the two figures are located on the two central stones.


Click here to return to Tuck Langland's main page.