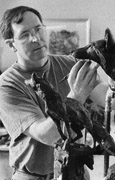 Walter Matia works on the clay version of "Summer Knight".
Sculptor and painter Walter Matia was educated at Williams College in Massachusetts, where he earned degrees in Biology and Art Design. Much of his training was attained during a long apprenticeship in the Exhibits Department of the Cleveland Museum of Natural History. After leaving the Cleveland Museum, Matia worked for eleven years with the Nature Conservancy as the vice president in charge of land management.

Matia began casting his sculpture in 1980. Initially, he concentrated on bird life, but has now expanded to work on sporting dogs and other mammals. He has also completed a series of larger fountain and garden pieces. In 1989, the Blair House Restoration Committee placed one of his fountains in the formal garden of the United States President's Guest House. To complement the fountain, Matia produced a bronze wall frieze for the Blair House in 1992.

Matia's major outdoor commissions include the Wichita Kansas Botanical Gardens; the Benson Park Sculpture Gardens in Loveland, Colorado; the American University in Washington, DC; and the Deerwood Office Park in Jacksonville, Florida. In 1988, Matia was commissioned to produce the Merrill Lynch Bull for their corporate regional offices. In 2001, he was commissioned to sculpt the "Spirit of the Bull" monument for the NFL Houston Texans at Reliant Stadium, which includes six 1 1/2 times lifesize Spanish Fighting bulls.


Matia was named as a Fellow of the National Sculpture Society in 2004. His works have been selected for several national exhibitions and have toured to dozens of museums both in the United States and abroad.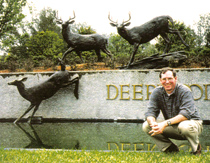 Sculptor Walter Matia with his "Whitetail Deer" Monument.