Leo Osborne
"Annunciation" Wood Original
Handcarved Maple Burlwood (Dyed) with Brazilian & Indian Amethyst
One of a kind
36" H x 56" L x 26" D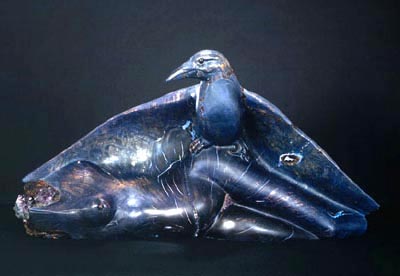 "Annunciation: announcement of the incarnation, the embodiment of a deity or spirit in an earthly form. The RAVEN announces the coming child and like the Guardian angel announcing the coming of the Christ it is a re-glorification of the bird realm as Messenger and go-between of the worlds. The WOMAN is the embodiment of the new Millennium and represents the Goddess and the balance that is occurring as the Piscean time ends and the Aquarian time begins. It was said by William Blake: "Time is a Man and Space is a Woman." Now entering the end of our "time", the all-encompassing Space of the Goddess dawns, pregnant with the seeds of our next "time". - Leo Osborne

ANNUNCIATION

Raven Spirit
guardian of life
lift your veiled wings
introduce our Goddess of space
reclaimed, reunited
birthing us through
crystal light into Oneness

-Poem by Leo Osborne

Click here to return to Leo Osborne's main page.