Leo Osborne
"Strength of Dreams and Visions" Wood Original
Handcarved Maple Burlwood, One of a kind
20" x 34" x 34"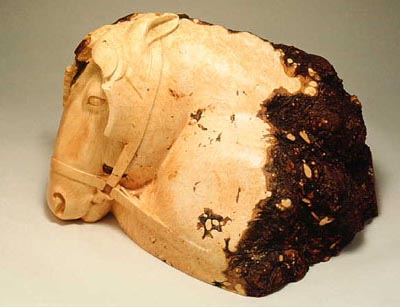 "The sculpture "Strength of Dreams & Visions" is the embodiment of the spiritual aspects of the life between the draft horse and humanity. The great steeds here in the United States carried and pulled the pioneers and their belongings across the plains and mountains. There they would plow the land and work the forests. They became the strength behind the dreams and visions of the homesteaders. Here in raw maple burlwood the draft horse pulls himself from the wood, the raw bark through the tool gouges into the smooth, tactile elegance of the polished burl; the horse's energy is his own strength. " - Leo Osborne

STRENGTH OF DREAMS & VISIONS

As I pull myself from this earthly burl
I emerge as the force that carried men,
women, and children across the prairie lands
I plowed the field, I bared my load to fulfill
the promised dream
I was your strength, your mighty steed
I ask only that you remember me
and of how much I cared for you

-Poem by Leo Osborne

Click here to return to Leo Osborne's main page.