Sculptor Ronnie Wells. Photo by Gary Clark as pictured in the October 1998 issue of "Southern Living" magazine.
Sculptor Ronnie Wells is blessed with outstanding ability as both a painter and a sculptor. After receiving his degree of fine arts from Louisiana Tech University in 1968, Wells became a full-time professional artist. His pursuit of perfection and constant desire to seek realism has cemented his foothold as one of the nation's premiere wildlife artists. Also, by being an avid fly-fisherman and a duck hunter most of his life, Wells infuses a sportsman's insight in all of his artwork.

Wells has received much recognition in his career, including being honored as the 1997 Texas State Artist of the Year. Wells has also become recognized as being a monumental sculptor in recent years. His seven foot sculpture of two landing mallards can be viewed at the Ducks Unlimited corporate headquarters in Memphis, TN.


Recently, Wells also added "published author" to his long list of credentials. He both wrote and illustrated his own children's book titled "The Legend of Catfish and Little Bream".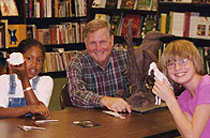 Sculptor Ronnie Wells instructs children in a clay class at a Barnes & Noble store in Bloomington, IL.