Joy Kroeger Beckner
"So Good to See You" Miniature
Bronze, Edition of 99 & 9 Artist's Proofs
1:6 Scale, 2 2/3" L x 2 1/2" H x 1 1/2" D
Also Available:
"So Good to See You" Lifesize
Bronze, Edition of 20 & 2 Artist's Proofs
16" L x 15" W x 12" D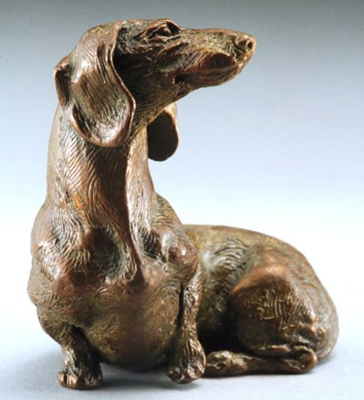 Photograph by Mel Schockner.




"The sculpture "So Good to See You" was inspired by two beauties, Lizzie and Tess. Ten-year-old Lizzie and I met young Tess in June 1999, at the Dachshund Club of America National Field Trial. Tess looked up from a tightly curled position, as if to greet a friend. It was magic. For the first time I memorized a pose -- the glorious curve following the left side of her ribcage to her slim waist and hips left an indelible impression on me. Since 1996, when I was given Lizzie, I wanted to do a head study of her. The curved composition provided the simplicity necessary to showcase her head. In addition, it fulfilled my desire to bring height to a sculpture of a naturally posed dachshund." - Joy Kroeger Beckner


Click here to return to Joy Kroeger Beckner's main page.