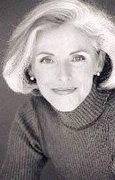 Joy Kroeger Beckner. Photo by Akin.
A Missouri artist who specializes in "Canine Images," Joy Kroeger Beckner creates life-like sculptures of dachshunds and other dogs that delight young and old. Joy is inspired by sensuous shapes of skin, bone, and muscle. She is thrilled to make something move in-the-round bringing smiles, giggles, or tears to the eyes of those who see and touch her work.


Since 1993, Joy has annually created bas relief portraits for the National Cosmetology Hall of Fame. Joy first showed in a national competition in 1996. Since then, she has earned awards from the National Academy Museum, the National Sculpture Society, and the Society of Animal Artists. Her bronze dachshunds have earned numerous awards, including four Best-in-Shows. Art Show at the Dog Show sponsors purchased one of her pieces for the permanent collection of the American Kennel Club Museum of the Dog. Joy attended Washington University School of Fine Arts in her hometown of St. Louis, Missouri.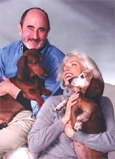 Joy with husband Brian and inspirations Edgar and Lizzie. Photo by Matt O'Shea.