Rosetta
"Running Cheetah" Lifesize
Bronze, Edition of 10
34" x 115" x 17"

Also Available:
"Cheetahs on the Run" Lifesize
Bronze

Also Available:
"Running Cheetah Mini"
Bronze, Unlimited Edition
3" H x 9.5" L x 2" D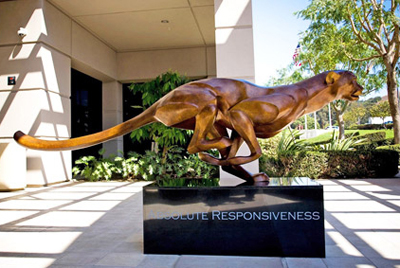 Photograph by Nadia Borowski Scott.






"This enlargement of my smaller "Running Cheetah" was unveiled at the grand opening of NuVasive's new headquarters building in San Diego, CA, in 2008. The cheetah is this corporation's "mascot" and plays a significant part in all of their special functions." - Rosetta

This lifesize cheetah is also located in the city of Dowagiac, MI, in "Cheetahs on the Run" (along with the commissioned sculptures "Turning Point" Lifesize and "Cheetah Sprint" Lifesize) to honor the passing of one of its prominent and beloved citizens.


Click here to return to Rosetta's main page.