Sculptor Rosetta. Photo by Mel Schockner.
Though drawn to modeling in clay at a very young age, Rosetta's formal art training was in commercial art, culminating at the Art Center College of Design in Los Angeles. Once established in a successful graphic design career, the urge to pursue her love of creating in three dimensions resurfaced and now she is sculpting full-time. Her subjects are animals, another childhood passion. Stuffed animals took the place of dolls, and recurring nightmares of being stalked by big cats evolved into wonder-filled dreams of friendly encounters with them. Admiration and respect for the grace, power, and nobility of the wild ones is evident in Rosetta's sculptures, which capture their spirit, form, and movement in a unique hard-edged yet fluid style.


When asked about her work, Rosetta says, "The subject of my sculpture is the life force of the animal, in all its visual splendor. The point of my work is not to depict an animal as it appears in nature, simply as a reminder of something already known. The art is in the expression of a concept contained within the subject, uniquely presented to enhance one's experience."

Rosetta has exhibited extensively both nationally and internationally. She has completed corporate, public, and private commissions and has received numerous awards for her work. She is a fellow and current board member of the National Sculpture Society, a member of the Society of Animal Artists, and a member of the American Women Artists.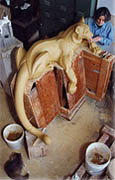 Rosetta works in her studio on the clay version of "Cougar Bench". Photo by Mel Schockner.