Weston Gardens, a Fort Worth Historical Site, often exhibits many works by our Sculptureworks consortium in their beautiful demonstration gardens. Indeed, the beauty of sculpture is often enhanced by the natural surroundings found in this peaceful retreat. Visitors are welcome to tour the demonstration gardens at their leisure and enjoy the sculptures we have placed throughout the grounds.

Garden Information:
Weston Gardens in Bloom, Inc.
8101 Anglin Drive
Fort Worth, TX 76140
817-572-0549
http://www.westongardens.com
Garden Hours:
M-F: 10-6, Sat: 9-6, Sun: 12-5

Also, remember to keep Weston Gardens in mind the next time you have landscaping needs. Their expert staff can provide knowledgeable assistance to help you create your very own sculpture garden - right in your own backyard!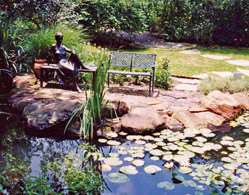 "Resting Dancer" by Tuck Langland creates a relaxing area by the pond at Weston Gardens. Photograph by Elizabeth Loggins.

"The Alphabet Chair" by Sculptor Sarah Peters. Photograph by Elizabeth Loggins.