The Saginaw Public Library hosts many Sculptureworks displays throughout the year. The majority of our Sculptureworks sculpture displays are on exhibit at the library on a rotating basis for 90 days. So visit this library often to check out the rotating sculpture displays by our various Sculptureworks artists!

Past displays have included works by Paul Oestreicher, Tuck Langland, Karryl, Kim Shaklee, Sarah Peters, Michael Hamby, Marion Roller, Marilyn Newmark, and Blair Buswell.

Also, be sure to visit the sculpture "Readin' Time" by Bill Bond, which the Saginaw Public Library purchased through Sculptureworks in 2003 to add to their permanent collection at the library.

Do you remember which sculptures you have seen at the library so far? View some of the photos below for a reminder of some of the displays that Sculptureworks has exhibited at the Saginaw Public Library.



The Saginaw Public Library.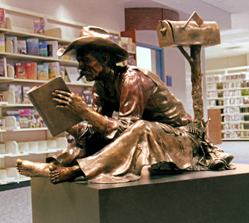 "Readin' Time" by Sculptor Bill Bond is shown at the Saginaw Public Library. Photograph by Elizabeth Loggins.